i wish to make my tutorial to be available here directly so i posted it as thread type.
Creating Neon Lights with Scanline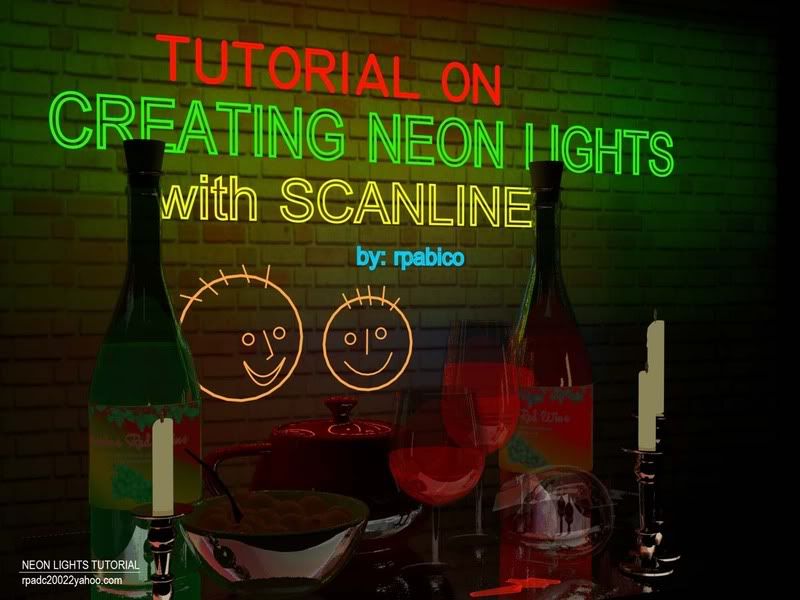 On this tutorial, i will show you my workflow in creating /rendering neon lights with 3dMax Default scanline rendering
in just simple steps.
1. Scene preparation:
unit - meters
renderer - scanline
2. Creating a scene. First create a simple wall by dragging a plane in your front viewport. Here i created a plane with dimension 8.0m x 10.0m, and with a segment of 4 x 4.
Then i provided it with a brick maps, which is located on 3dmax default material.
Then for the neon objects, '' CREATING NEON LIGHTS with SCANLINE'' , just go to creating and modifying panel, select shapes then text. Go to your front viewport and create a text there. Then activate rendering sub menu panel, and tick the box Enable on Rendering, Enable in Viewport and Generate Mapping Coordinates. Then tick the radio button Radial and provide thickness amount and number of sides like the see figure below.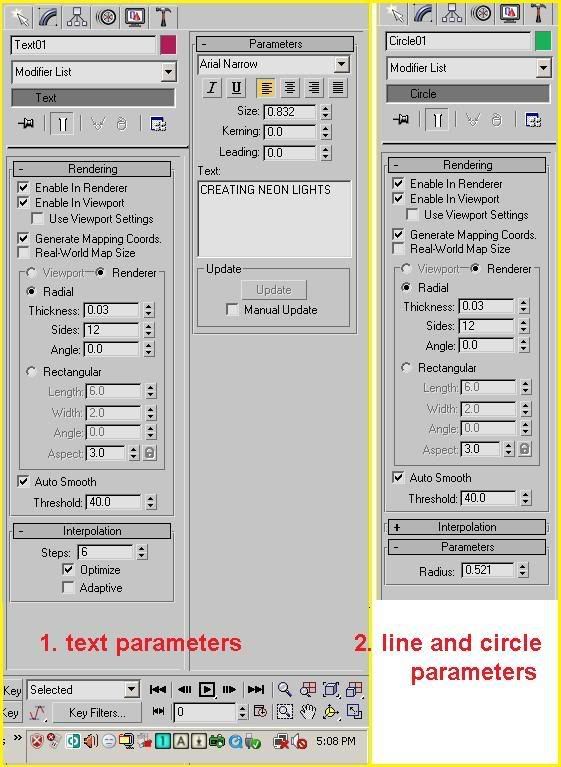 For some graphic figures (face figures) i just use line and circle with the same parameters with the text. Then go to top or left viewport and move the wall away of about 1 cm to the text and graphic figures.
Add some 3d accessories for the scene, see figure below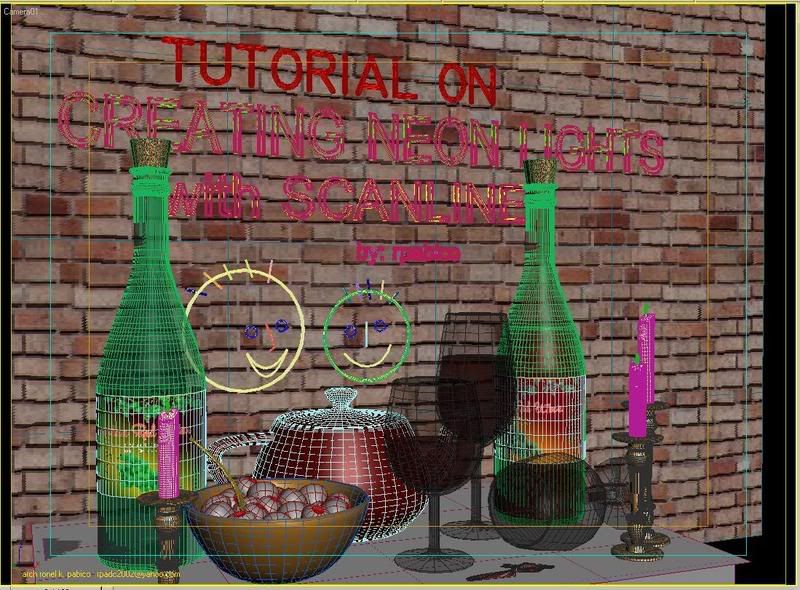 3. Light Preparation
Actually the scene has no lights at all. It is lighted only with the neon i created.
Here is the preparation of the materials. Press M, fo materials. Renamed it say neon green. Click on diffuse color and change it to green color ( depends on the neon color you want to make), same with the ambient color. Tick the box for self illumination. Then drag the color you make on diffuse to the color of self illumination slot.
On the browser that will appear, select Advance Material Overide. Select Keep old material as sub-material, then press ok. On the Advance Lighting Overide Material adjust the reflectance sacle to 100%, color bleed to
50%, Luminace Scale 100%. Now this the primary setup of the lights, you can adjust it as soon as it will satisfy your requirements. See figure below.
4. RenderinG Preparation
Press 8 for the environment, just leave it as it is for the meantime. Then go to Exposure control and select Automatic Exposure.
Press F10 for render Scene Dialog Box. (We will use scanline for now). Go to advance Lighting, activate radiosity. n radiosityy parameters, make the initial qualty to 75% ( adjust it to 100% later for your final scene).
Tick te box for Process refine Iterations.....
On radiosity meshing Parameters, enabled Global Subdivision Settings. Here I provide 1.0m, Then tick the box Shoot Direct Lights
On Rendering Parameters of Radiosity, tick resuse Direct Illumination from radiostiy solution. Then fired up
Start to compute radiosity, wait until finish ( see my setup below)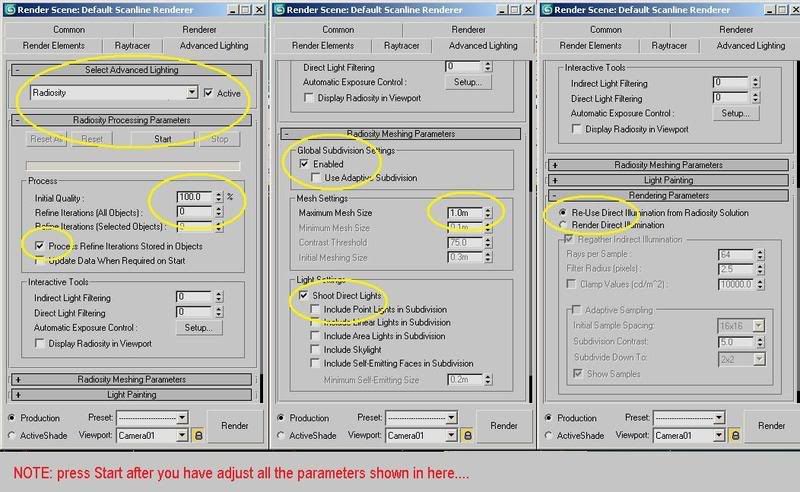 Here is my final image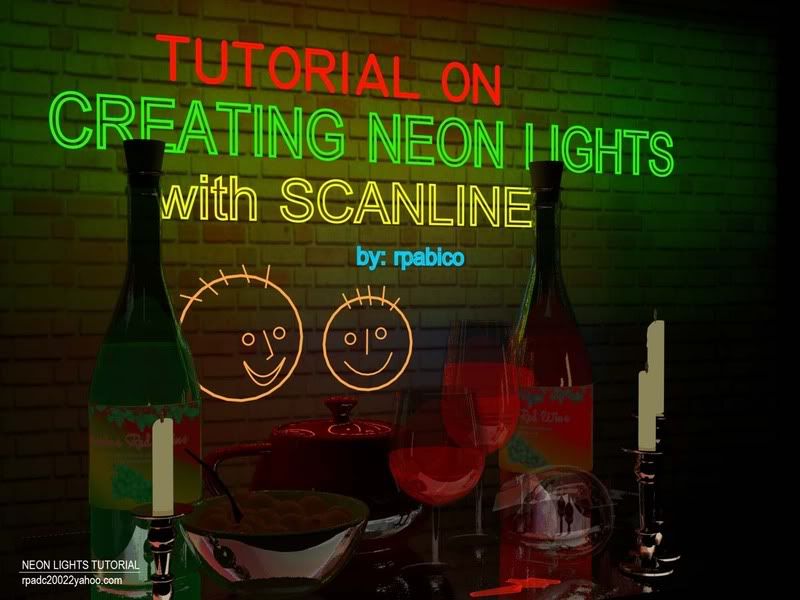 Comments and critics are always welcome!
all rights reserved:
CRETING NEON LIGHTS with SCANLINE
arch ronel k. pabico
[EMAIL="rpadc2002@yahoo.com"]rpadc2002@yahoo.com[/EMAIL]