Hi there, this is my first post on this forum.
I am trying to make a human face in 3dsmax.
I tried polygonal method before. but the result is not satisfactory.
So I tried again, from the basic reference line and image reference.
The overall progress is up to following:
http://i100.photobucket.com/albums/m30/USElf/Screenshot_25_m2.jpg
I made the nose, then face and lips then jaw
but then when i need to connect the jaw and the face, I found that the number of points doesn't not enough. (See the following picture)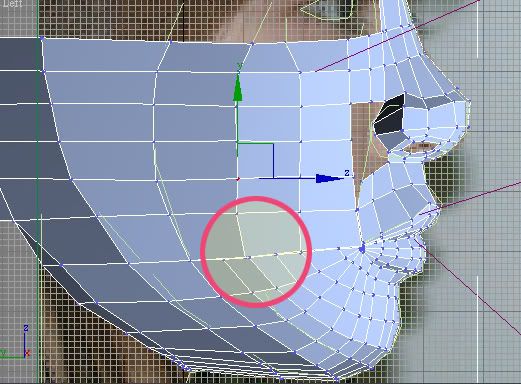 As far as I know, 3dsmax doesn't support pentagon as a polygon.
So how do I connect the jaw and the face?
I know we can cut the face and insert more points vertically, but this avoid me from keeping the face part clean (I suck on managing too many points, the face doesn't smooth enough)
So, I would like to know how should I deal with the problem? Is inserting point the only way?
Moreover, when I use polygonal modelling in 3dsmax, I run into some part ends with triangle, I guess there maybe no way to prevent this. However, are there any tips or better way to do it? When should we use triangle?
Thanks a lot.